If you're planning your first trip on Royal Caribbean, below are some useful information for boarding/embarkation
Driving to Marina Cruise Centre
You will board the cruise at Marina Bay Cruise Centre.
The address is
61 Marina Coastal Drive, Singapore 018947
If you are driving via KPE, Take Central Blvd Exit, keep left and turn left when you see Marina Costal Drive.
You will see a building and a MRT. That ti snot the Marina Cruise Centre. Drive further down and turn left. You should spot the Spectrum of the Sea Cruise at the dock (It too big not to be missed).
Level 2 should be full. Proceed to level 3 for parking.
For my case, my check in time is 1pm and by the time I reached the car park at 12pm, Level 2 parking is full and I have to park at level 3. Level 3 was about 30% full.

Marina Cruise Centre DriveCruise Parking Pass
There should be a QR code on the parking pass at the lobby. If not, visit this website directly to purchase a parking pass.
Although it is possible to purchase the parking pass prior the sailing date, it is recommend to only purchase the pass after you park your car as the car park may be full and you may need to park your car elsewhere. Till date, I have not heard of anyone not able to find a car park on sailing day.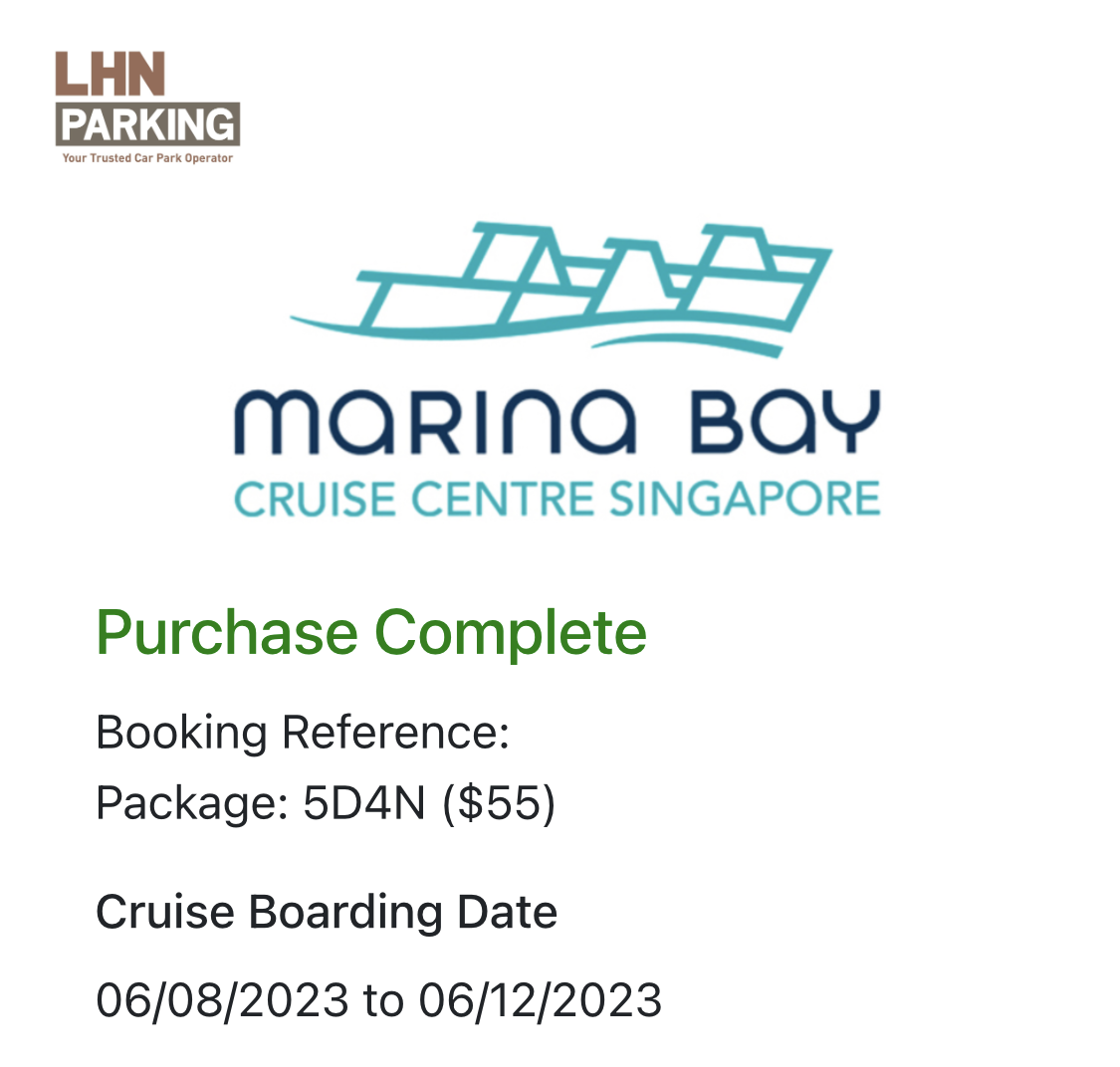 Check in process at Marina Cruise Centre
Upon arrival at the departure entrance, there is a Royal Caribbean station where you can drop off your luggage.
Proceed through the security baggage and body scan.
Head to level 2 and check in with Royal Caribbean. They will ask for the sea pass barcode in your Royal App. They may retake your photo. For Foreigner who require Visa-on-arrival, they will ask you to fill in a form.
Proceed to level 1 and complete the Singapore Immigration process.
Look out for your group number and hand over your passport to Royal Caribbean staff at the the bridge.
Enjoy lunch at Deck 14 Windjammer.
Around 1:30 PM, they will announce that your room is ready, and your room cards will be slotted outside the room.
If you checked in your baggage at step 1, your bags may not be ready immediately. In my case, my baggage was only left outside the room at around 4 PM.
Telco Signal and 4G Availability
I am using M1.
At Singapore Cruise Centre, you should be able to made phone calls or surf 4G.
During Sailing, you will be switch between Telcos in nearby countries.
On international water, you will be connected to US Telco.
Unfortunately for me, I did not turn on flight off. Even though I have data passport, I was slapped with a $100 roaming fee as Data Passport do not cover international water.
Chatting with Family Friends in Royal App
Not sure if it is a iPhone issue. We need to open up the app in order to receive message.
Also for my case, I wanted to pass my kid (<12 year old) a phone so that I can message him using the Royal App. However, to my disappointment, the chat function is only available if the person is >12 year old. The workaround is to login my kid phone and my phone with my account to contact my wife. The downside of this is that I am not able to contact my kid directly. Only my wife is able to him or me.
Arrival/Disembark
The night before arrival day, you can leave your luggage outside your room if you do not want to carry it along. Although they state that you need to leave it by 10pm, they still cleared our luggage when we leave it outside at 11pm.
Room need to be clear by 8am.
If you are having breakfast at dinning room, you need to leave your luggage outside the entrance.
For information on other topics, you may refer to the following post.