Hi Guys,
Here's a new wedding website which I createdfor a friend – http://www.ivyandchris.com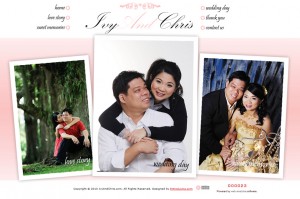 The animation in the website is not running in Flash and it is built with JQuery animation. Thus, the animation is viewable in non-flash devices such as iPhone and iPad.
The photo gallery ("sweet memories") is built with Adobe's Spry technologies and XML.
The floating heart shapes animation is built with Gaya Design's Puffing Smoke Effect scripts.
Would appreciate for your comment guys. Thanks.